Home delivery world Europe event
March 28, 2017, 08:00 AM - 05:10 PM
London, United Kingdom — Map It!
Details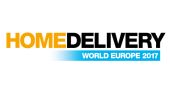 Leading retailers and ecommerce brands are attending Home Delivery World Europe to reflect on their current practices and evaluate the new systems and technologies that will keep them competitive.
Home Delivery agence enables retailers to hear from best practise retailers and ecommerce brands, to reflect on systems, processes and deliver the best experience to customers.