eTail Nordic
October 02 to October 03 2018
Radisson Blu Scandinavia Hotel, Copenhagen, Denmark — Map It!
Already have an account?
Don't have an account?
Latest News
Feb 20, 2019

United States

Feb 20, 2019

United Kingdom / Liverpool / Liverpool One
Details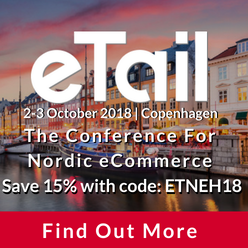 eTail returns to Copenhagen as the Nordics' most important eCommerce conference. Join over 300 e-commerce professionals looking to challenge convention and share their experience in delivering a "seamless retail" experience that customers now expect. Hear presentations on award-winning campaigns, industry challenges and ways to fight Amazon.
This year speakers include:
* Allan Bo Christiansen, Digital Developer, Atea
* Martin Bystedt, Head of User Experience and Digital, TUI
* Charlotte Bachmann Katz, Chief Digital Officer, KappAhl
* Bo Damgaard, Managing Director, OMD
* Carl Wåreus, Head of Agency, Google
* Pino Roscigno, Director of Marketing, Stadium